Pool Table Recovering in Asheville
Do you need to take care of your pool table recovering service? Did you find a billiard table that needs the felt replaced maybe because is worn out or because of decorative needs?
We can help you move your table and refelt it at the time of assembly! Or perhaps you already have a pool table setup and are looking to have your existing cloth replaced? We've got you covered!
Simply give us a call to the number below, get your free quote and schedule your service!
Professional Pool Table Recovering Services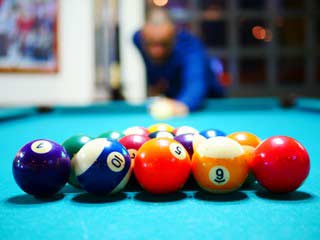 The SOLO® Pool Table Movers in Asheville offers the best billiard table recovering services in Asheville and surrounding areas. We recover using high-quality felt and our workmanship and materials are covered under an exclusive guarantee in writing.
We recommend you verify your pool table room sizes. This is useful to know if the billiard table that you are interested in will actually fit in your game room.
Professional pool table recovering is a methodical process that should always be performed by specialists. Making even a small mistake could lead to a disastrous outcome.
We have decades of experience in the billiard service industry and we have replaced the felt on countless pool tables. We use the right tools and proper techniques each time we service a table.
By doing so, we ensure the timeliness and professional results that you would expect when hiring a team of experienced billiard table movers. When we complete the service, rest assured your pool table will be in the best playing condition it can be.
We provide a written service guarantee that starts when we complete the job and lasts for a period of 365 consecutive days from then on.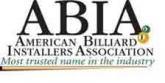 This guarantee is exclusive to our company, it is issued in writing and backed by the American Billiard Installers Association, the only national organization that is currently raising up the standards in the billiards service industry.
Pool table refelting guaranteed in writing for a whole year!
We take pride in the quality of our workmanship and our services have the exclusive backing of a national organization. The guarantee we offer materializes in the form of a written document which is issued by the ABIA.
The SOLO® Pool Table Movers has the exclusivity of being the only company in the area authorized to issue this document to our customers.
Our guarantee ensures that should your pool table go out of level because of weight settlement on the floor it sits on. Or should there be any installation issues, damage to the table including the felt we provide for your refelting service or property damage.
Whichever issue may arise during and after the service, we will return to fix the issue and/or replace the materials used. This assumes that the issue is related to our workmanship and/or materials and that the written guarantee specifies the issue.
We know that one of the most important aspects when it comes to scheduling your service is the pricing and perhaps it might just be the most important. With this in mind, we have put together a price and cost analysis of the services offered.
This information can be very helpful in helping you calculate the cost to move a pool table. We try to be as clear and concise as possible, however, if you have any questions in this regard, don't hesitate to contact us.
Pricing your pool table refelting service
In order for us to provide a pricing estimation for your pool table refelting service we need to know a few particulars in regards to the pool table, the type and desired cloth color, and any special circumstance that may be involved. Below we have listed the most important details and circumstances that we use to price your service:
Playing surface area of your pool table
Brand or manufacturer
Number of slates
Pocket style eg, drop leather pockets or ball-return system
Whether your billiard table is an antique or modern build
If this pool table is already setup or if we need to install it
In case we are installing the table, are there any stairs or turns to deal with?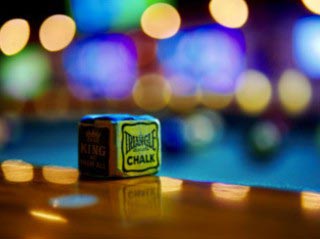 In that context, it is worth mentioning that the most convenient time to carry out your pool table refelting is when we take care of your pool table setup. This, of course, is assuming we are also providing your pool table move service from start to finish.
Most of the customers that we have helped move their pool table opt to have the refelting service taken care of during this time.
This is the most convenient time to recover your pool table and the reason is that when recovering a pool table that is already setup, we have to partially disassemble the table and since the pool table is in pieces when it is being installed it takes less time for it to be refelted and we can inspect for other minor issues and get those taken care of.
Pool table refelting material options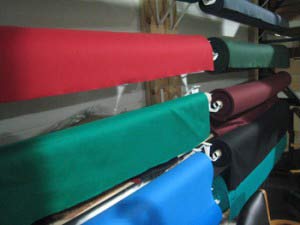 We offer a high-quality pool table felt and have a vast array of colors to choose from. If you are looking to recover in Tournament grade cloth we can also help.
The main differences between standard cloth and upgraded worsted material are the speed and accuracy. If you're a passionate and experienced player perhaps you will go with the upgraded worsted material.
If you enjoy shooting pool as a leisure pastime, to relax after a long day at work, or to have a good time with friends and family, the residential standard cloth will do just great.
Standard woolen pool table felt colors (Opens in new window.)
Stain-resistant material.  Woolen felt is what is most commonly found on pool tables and is most commonly what is offered with all new pool tables.  The texture is a little "fuzzy" and is the slowest of the materials which makes it also the most economical of the options.
Simonis worsted felt colors (Opens in new window.)
The most widely recognized name in the industry, used by professionals and passionate players. This pool table cloth undergoes a special manufacturing process that results in a beautiful precision cloth. This achieves the smoothest and most accurate playing surface available.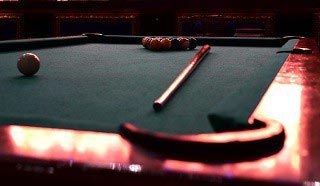 Tournament grade cloth, tightly woven material that gives it a slick texture allowing for a faster game, higher accuracy, and more durability.
We guarantee our services for an entire year with a written service guarantee which is backed by the American Billiard Installers Association. The only National Organization that regulates service standards in our industry.
The SOLO® Pool Table Movers in Asheville can take care of all your pool table needs.